Enhance Your Sauna Experience with Accessories
Posted on July 22, 2019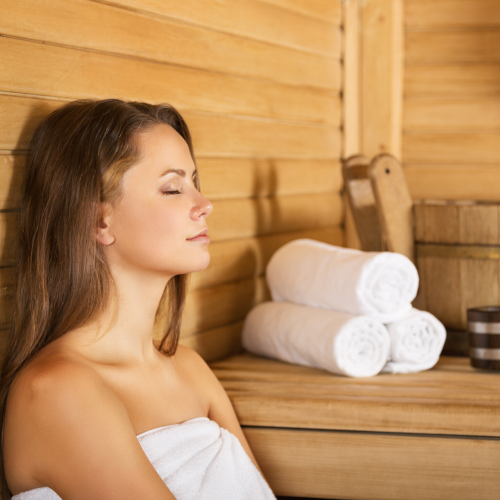 Having the right sauna accessories will make your relaxing ritual that much better. It's worth the small investment to enhance what is already a great experience and turn it into something amazing.
Bucket and Ladle
One of the quintessential experiences of a sauna is the dipping of water and pouring it over your body and the sauna rocks. This is particularly popular in Finnish saunas, but can be used in other types, as well. The cool water helps regulate body temperature, flush away sweat and grime that has been excreted by the body and is excellent for toning the pores, as well.
The variety of pails and dippers means that you'll be able to find something to fit your sauna room perfectly. It's a good idea to go for a metal insert which works to keep the water at a constant temperature, as opposed to plastic, which tends to create tepid water temperatures. Copper buckets and ladles are quite popular for an authentic look and work very well in modern saunas, as well.
Thermometer/Hydrometer
Having a thermometer in your sauna is always a good idea. You'll be able to see at a glance whether the temperature is right, rather than having to judge by how it feels. Since there are optimum temperatures for a sauna experience, it's useful to have the thermometer right there inside the sauna.
A hydrometer lets you know what the humidity level within the room is and the best devices available combine both thermometer and hydrometer. Opt for a wood framed version that will blend into the interior of the spa for a more sophisticated look.
Bath Brush
With a long handle for reaching down your back, you'll find that a bath brush allows the heat and steam from the sauna to improve your skin. The brush is used to open pores all over the body, which allows the steam to penetrate and do its job, deep cleaning the skin. The bristles also stimulate blood flow to the skin, enhancing the cleansing effect.
Back/Head Support
Sitting in a sauna on a regular basis can be a bit of a strain on the back and neck. For the ultimate relaxation, it's a good idea to invest in a back or head rest. Look for ones that are ergonomically curved to fit your spine in a comfortable position.
Back and head supports are usually made of wood to fit into the sauna environment and withstand the high temperatures and humidity. You'll find it much more relaxing when you can lean your head back and rest while enjoying the cleansing experience.
Timer
Most people follow time limits to stay safe in the sauna, but if you can't wear a watch in, how do you know when your time is up? That's where a good sauna timer comes in handy. Since regular clocks tend to fog up or stop working in the humidity, you might want to go for the more traditional sand timer which can be turned as often as needed to set the right time.
Aromatic Dispenser
The benefits of aromatherapy are well known, so why not incorporate this into your sauna? Depending on the scent you choose, it can be either relaxing or invigorating to use an aromatic dispenser. Liquid scent is mixed with water and the dispenser allows it to drip slowly onto the stones, creating a unique atmosphere that is usually only found in professional spas.
Sauna accessories really do make the entire experience more wonderful and relaxing. From back rests to scrub brushes, there are products to help improve every aspect of the sauna. Choose high quality options, though, since cheaper versions won't hold up for long in the intense environment and tend to fall apart.